Mother's Day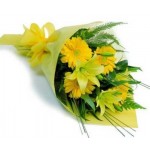 Here you will see a selection of bouquets.
Should you not see what you are looking for then please contact Jackie to discuss your personal requirements.
I have fresh flowers delivered daily which are always changing – depending on the 'season',
​therefore I am able to order flowers in for you should you require something specific.
Local delivery charge is from £4.50 but prices will vary depending on the delivery area.
To order any of these products please contact Jackie on 01444 400010.