Pillows and Cushions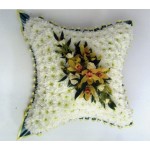 Here you will find a selection of Pillows and Cushions.
Should you not see what you are looking for then please contact Jackie to discuss your ideas.
Pillows and Cushions come in different sizes - please see description for prices.
The prices shown are for the flowers shown in the picture.
I am able to change the selection of flower/colours to suit your personal requirements.
To order any of these products please contact Jackie on 01444 400010.
Showing 1 to 5 of 5 (1 Pages)